To People Who Want To Crush The Print-On-Demand Sales — But Don't Know Where To Get Started…
Now is the BEST time to start building a print-on-demand business.
Want to know why?
Because Mother's and Father's Day are coming up, you can EASILY sell tons of coffee mugs, shot glasses, tumblers, etc. to sons and daughters who are looking for a gift with a funny or meaningful message they want to send to their parents.
Because it's easy to find winning products FAST during this period. Afterwards, you can scale the products and sell tons of them again in Q4 (a.k.a. the HOTTEST Shopping Season of the Year).
Because when you find and accumulate winning products for Mother's and Father's Day, you can sell them again and again in the years to come. It's a long-term business that will only keep growing.
and much more!
Prelaunch Pricing Still Available!
---
Allow me to introduce myself. My name is Bank K. Chances are you haven't heard of me before. But when you finish reading this, you'll be glad you finally did.
I have been selling tons of print-on-demand products using this method since 2017.
In case you don't know what a print-on-demand product is, let me explain it in a few sentences.
Basically, a print-on-demand product is a product like a coffee mug or tumbler on which you can put a custom design. When you get an order, a supplier will make the product and ship it to the customer.
It's not like like the tradition eCommerce business model we dropship products from China and run Facebook or Google Ads for the product pages. (That said, the dropship business model works well, and I have been doing this as well.)
But, since 2017, I've been allocating my time to build another side-hustle business – a print-on-demand business – because I don't want to put all my revenue eggs in one basket.
As you can see, Facebook Ads keep getting more difficult to do these days. They're not as cheap as they were in the early 2010s.
And, of course, recently there have been production and delivery problems in China because of the COVID-19 pandemic. We can't ship products to our customers on time.
Because of these problems, our business may lose the trust of our customers, who won't buy products from us again. My dropship business has felt the effect of this crisis.
But luckily, I have another income stream from the side-hustle I started building in mid-2017.
Yes, it's a print-on-demand business that uses the low-hanging model.
With this business model, you don't need to have a real product on hand. You just have to create a design, make a product mockup image (using the tool), and sell it using free traffic. The supplier in the U.S. will do the rest.
No Expensive Inventory Needed.
No Facebook or Google Ads Needed.
No Products From China Needed (also no side effects from the COVID-19 Crisis)
It's become the business model I like the most.
As I told you, I started selling print-on-demand products using this method in 2017, but I started getting most of my sales just before Mother's Day 2018.
I had a few mugs bearing a message from a son or daughter to a mother. They sold really well before Mother's Day that year. I also used the same method to create new products for Father's Day in 2018 as well.
In 2019, I eventually made over five figures from these two special days alone. I found that it's a snap to sell print-on-demand products for Mother's and Father's Day compared to other times of the year.
Just look at my results from last year:
And this is the recent result: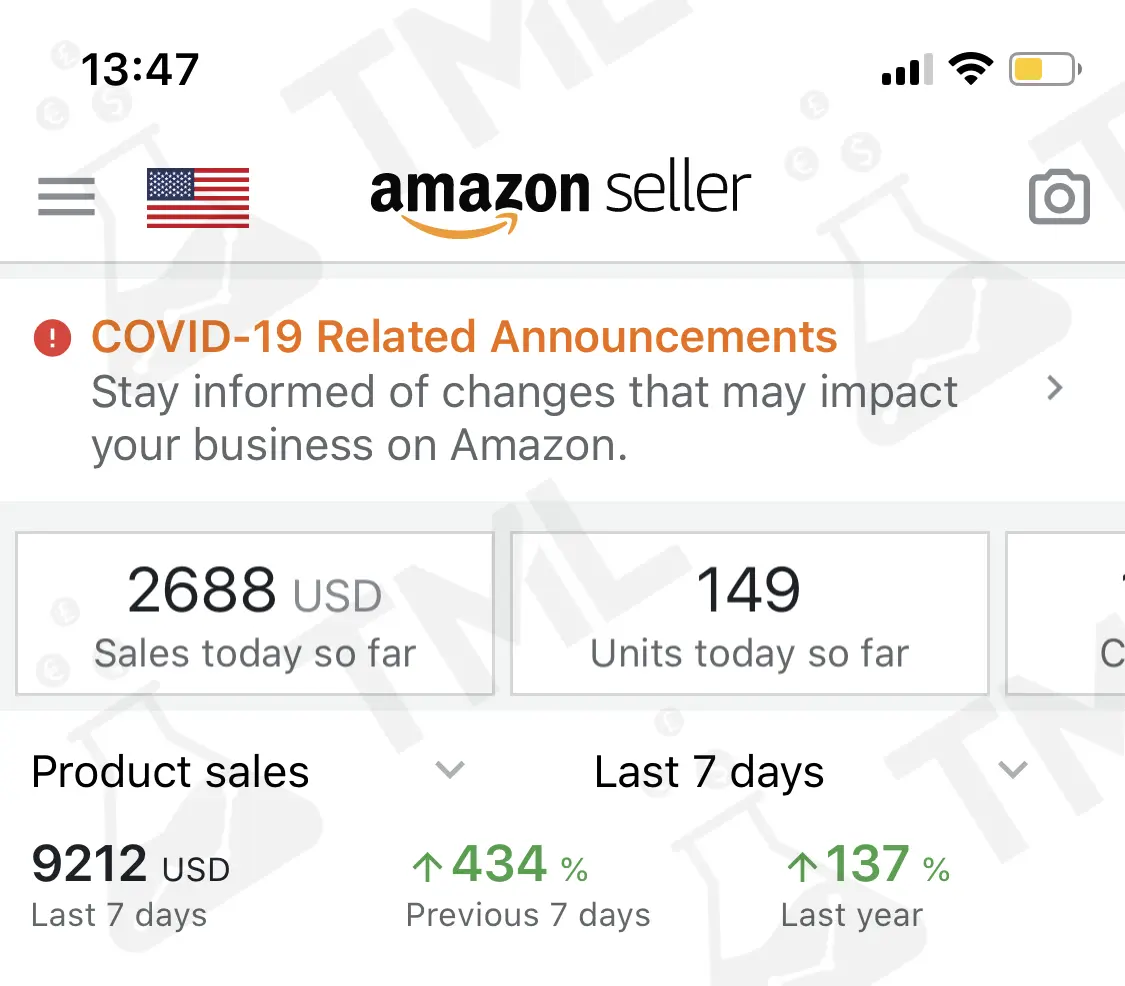 There are two main reasons why POD products can be easily sold in advance of these two special days:
A print-on-demand product is a product that people usually buy as a gift for someone they love.
It contains funny or meaningful messages that sons and daughters want to convey to parents.
So, if anybody wants to start building a print-on-demand business, I highly recommend that start by selling products for Mother's and Father's Day.
---
And that's why I'm pleased to introduce the "Mother's Day Mini-Course".
The Mother's Day Mini-Course is a detailed, easy-to-follow guide you can buy for a very low price.
The 6,000-word Mini-Course describes all the methods I have used to earn over 6-figures annually by selling tons of coffee mugs, shot glasses, travel mugs, tumblers, wine glasses, and other POD items.
I'll take you from start to finish. You'll discover everything you need to know to crush your Mother's and Father's Day POD sales.
Inside, you'll discover:
How to find ideas for products that most sons and daughters will purchase for their parents for Mother's and Father's Day.
How to create product titles and tags that will make your products visible in the marketplaces by using the same keywords that most of the top-selling products use.
How to quickly create tons of Mother's and Father's Day designs that people will want to buy.
How to use the 'Template Technique' to save tons of time on creating and publishing products to your account, in any marketplace.
PLUS All Future Updates.
This is a "Living Mini-Course" that is updated every quarter. With lifetime access, you'll be able to unlock ALL future updates at no extra cost!
It's a solid print-on-demand business model you can implement today. (YES, even during the COVID-19 crisis!)
PRICING During the *early-bird* opening, you can get lifetime access to the "Mother's Day Mini-Course" for only…
$89.95 $29.95
The Mother's Day Mini-Course
Instant Digital Access
($27/quarter) All Upcoming Methods Added Quarterly
and much more!
---
30-Day Money Back Guarantee​
GUARANTEE: If the Mother's Day Mini-Course isn't everything I say it is and you are not completely satisfied with it, I will refund every penny of your money, no questions asked. That's more than a guarantee – it's a promise.
Thanks for taking the time to check it out.
I look forward to helping you building your own print-on-demand business and to make long-term passive income.
Cheers,
Bank K.
PS. This mini-course will be available at this special promotion price for a limited time only. I reserve the right to increase the price at any time without warning or notice.
If you're serious about building a print-on-demand business, I highly recommend that you click the button below now.
---