12
min read
How would you react if you woke up one morning only to discover that your Etsy account has been suspended with the products that make lots of money for you?
Confused? Annoyed? Or, somewhere in between?
I know exactly how it feels to have your account suspended because I've also had a similar experience.
So, if your Etsy account has been suspended or you're currently in the process of getting a suspended account reopened, then you've come to the right place!
If you take a quick scout around the Etsy community, you would discover that the issue of account suspension is a rather recurring one.
It's one boat that a whole lot of Etsy sellers have found themselves in. And yes, I am not excluded. I've had my fair share of Etsy account suspension during my early days of Etsy print-on-demand sales.
I tell you it is not a position that you want to be in. However, it is one that more sellers find themselves in for one reason or another.
When I opened my first Etsy account, I had a smooth sail which only lasted for two weeks before I was struck with a suspension ban.
As soon as I got my first sale, Etsy suspended my account automatically!
I got an email notification from Etsy with the email subject "Etsy Account Closed".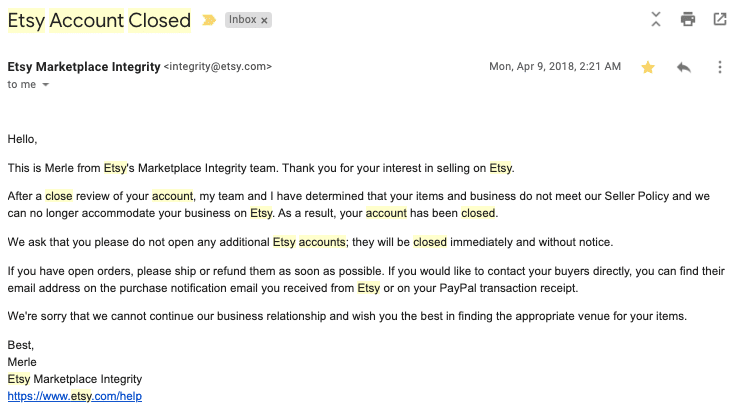 No one would ever expect to get that from Etsy, right? I got this after I made my first sale.
I was caught in the middle of hell and the deep blue sea. Honestly, 'Confused' was an understatement for how I felt. Because I had only just begun my journey as an Etsy seller. So, what could I have possibly have done wrong? Then it hit me!
You see, I am an avid traveler. I love to go new places. Experiences something new, from time to time. Apparently, I created that Etsy account in Thailand. Then, I traveled to New Zealand after a couple of weeks. I got my first sale in New Zealand and that was when my account got suspended.
My guess is that my account was not properly reviewed. I had accessed my account from multiple IP addresses and in different countries too. So, I guess that must have triggered the Etsy banning algorithm.
So, here's a takeaway! Accessing your account from multiple IP addresses can lead to a trigger of the Etsy banning algorithm.
What did I do after my account was blocked? I'd get to that shortly. If you are in a similar situation, I'd be sharing some tips on how you can get your account back or move on swiftly with your business without having to disrupt your business.
Also, if your account is still running smoothly, I would be sharing some guides that might help you to stay off the Etsy banning radar.
So, yeah. What did I do after my account was blocked?
---
How bad is getting your Etsy account suspended?
So, let me state that you are far from being the only Etsy seller to have gone through a suspension phase. That should count for something. So, be calm. You're not alone.
If you're a shop owner on Etsy, I bet that you must have probably heard about account suspension or might have a personal experience.
Unfortunately, account suspension is not limited to big or small shop owners. No one is really beyond suspension.
Unfortunately, Etsy often suspends accounts without prior notice. You only get a mail after the account has been suspended.
Sure, there are records of accounts being reinstated even after a permanent suspension. So, cheer up. However, it's not always smiling and grinning for everyone.
You might just need to get a horseshoe or some other good luck charm before reaching out to Etsy.
Either way, here is how to go about a suspended Etsy account.
For starters, if your Etsy account has been suspended then it's most probably because you have violated the Etsy terms of use. Etsy would then prohibit all form of buying and selling activities from occurring on your account.
They might also go as far as removing your shop from the Etsy search. Once an Etsy account has been suspended, there is very little that can be done on it. Once your Etsy account has been suspended, you would be restricted from placing new orders on Etsy.
As a seller, you would also be prohibited from receiving new orders.
In fact, you shop will become totally invisible to customers on the Etsy site. Also, you would not be able to use the Etsy apps. You cannot access your Etsy account outside a browser.
With a suspended account, shop owners are also prohibited from creating new product listings. And yeah, you would also be unable to edit your current listings.
Yeah, it's pretty bad.
A suspended account will literally shut you away from your customers. You cannot cancel existing orders with a suspended Etsy account.
Neither can you check out the reviews that your buyers have left for you. You are also restricted from running an Etsy ads campaign.
In other words, your business would be totally paralyzed.
However, there are a few things that you can do with a suspended account.
For what it's worth, you would still be able to create, receive and send out messages through your Etsy account. But you would need to login to your Etsy account using a web browser.
You would also be able to mark completed orders and also upload tracking information. You would still have access to your financial details. If a refund is requested, you would be able to get it across to the customer. And that's just about it.
I tell you, this is not a position that you want to find yourself...
---
What to do when your account has been suspended?
Once your Etsy account has been suspended, your selling and buying privilege would be permanently withheld.
As I said earlier, this might be triggered by a violation of the company's term of use or policies.
You can either choose to say 'sayonara' to Etsy and move to another online store like Amazon or Shopify.
But if you want to continue with Etsy, you would have to file an appeal for the reopening of your Etsy account and the reinstatement of your privileges.
You should know that often times, appealing doesn't really work.
This is because most times, Etsy doesn't read it. They just reject and reply with a template mail. But it's the first step to do. Maybe you will be lucky to meet real customer support.
To do this, you would have to log in to your Etsy account via the Etsy website. Once you're in, go to the My Account page and commence the process by clicking on the Reopening a Suspended Account page.
You would be required to write a detailed message appealing to the Etsy for the reinstatement of your shop.
Think of it this way. An appeal is a way of convincing Etsy that your suspension has been unfair and should be overturned. You appeal should contain a detailed description of your business. Narrate your business history on Etsy; giving a more personal recount of your experience as a seller on Etsy.
Then go ahead to recount all the possible that might have led to your suspension. Then highlight the plans that you have in place to remedy the problems attached to your account.
Ensure that you emphasize how well you have complied with the Etsy terms of use and policies. Go as far as informing them how well your products fit well within the Etsy policies.
The goal is to relate your message in such a way that they would deem you deserving to keep your shop.
When your appeal is sent, it would have to be reviewed by an in-house Etsy specialist. The specialist would go over your appeal thoroughly and come to a conclusion – whether or not you deserve to keep your shop.
If your appeal shows that your shop is worth reinstating, well, lucky you! You would receive a notification via mail stating the reinstatement of your Etsy account along with other related details.
After this, the suspension will be lifted and you will be free to do business as usual once again.
But if the specialist doesn't deem your fit to get your shop back, then you might to consider other alternatives.
Here are some things that you should about this whole process. First, the decision of the specialist is final.
So, you cannot appeal the decision. Sorry…
Secondly, the process takes several weeks, or months, before you can get a final decision. This is because the investigation process is often very complicated. So, you would have to be patient for your response.
Another thing that you should know is that submitting an appeal doesn't in any way guarantee that you will get your account back.
Bummer!
It only gives you a shot a fair hearing. Sometimes, if your account has been suspended for a rather severe reason, then submitting an appeal would have little or no effect at all.
Let me quickly chip this in. You cannot file an appeal for an account that has not been suspended. Well, technically, you can. But it won't fly.
If you have a pending or unresolved issue with Etsy, you would have to wait till it is settled before you can file an appeal. Otherwise, you might not change anything by filing an appeal.
When it comes to appealing to the Etsy specialist, I would personally advice that you come as clean as possible. As I have said, the specialist's decision is permanent and final. 'Irreversible' is the word. And once it has been decided, there will be no further consideration of your account reinstatement.
So, it's like having a gun with one bullet. Don't miss you shot!
---
Getting back on your feet after a suspended account
You know what they say, we fall to rise! Once all hopes of getting your Etsy account back goes down the drain, there are several ways that you get yourself back in the game.
After my account was suspended, I didn't want to continue selling on Etsy. I wanted to move on. But then, I found out that a lot of print on demand sellers have been crushing sales on Etsy.
Amongst all the existing eCommerce site, Etsy is best known for the sales of hand-made products. So, I wanted to get my account back.
And boy did I send mails!
I sent so much mails than I could count to the Etsy support team. However, all I kept on getting were template responses that didn't address my issue. I am very sure that those mail responses were not from humans.
So, I had no choice than to let go of my old account...
I began making plans on how to get a new account. Then, I stumbled on one of my friends on Facebook who was doing pretty well on Etsy.
He was selling a guide on how to create a new Etsy account and viable ways to prevent Etsy from suspending your account. And that was it for me!
I know him on Facebook and I see that he's making tons of sales on Etsy. So, I decided to buy his guide and try it out myself. It was sold for just a few dollars, so it was easy to buy.
He has also had his account suspended before too. But he created a new one using the process stated in the guide. He has been using it for several years now.
So, yeah, he knows what he's talking about.
His book was the holy grail for me! I followed his step-by-step guides on how to register the new account.
And I have been making tons of sales with this account for over a year. I must say that I have been pretty satisfied with the results from this account so far.
One major thing that I did was to change the identity when I was creating the new account. I had to register the new account in my wife's name. This is because I could not use the same information as that of the previous account.
So, if you are not able to get your account back. Create a new one. However, note that you would have to create it under a new identity. You can make use of your wife's identity, your husband, your brother, your sister, your mom or your dad.
There are a lot of goodies in his guide but unfortunately, I can't reveal so much of the rest information inside the book, otherwise, it won't be fair on him.
But I can tell you that if you want to create a new account with low suspension rate, this guide is what I recommend.
Although there might be some account still got suspended following this method, my account is fine. You can check the guide out here.
---
How to know if you are in danger of suspension
For the rest of this guide, I would be paying attention to those of you whose accounts are yet to be suspended.
Having your account suspended is an experience that you don't want to have. Trust me. I've been there. You would have to be prepared for the worst-case scenario.
But you might not know how to prepare without due notice, right?
Sadly, Etsy doesn't give you notice before the suspension. You don't get a "Hey, you are just about this close to getting suspended. Watch it!"
It is more of a suspend first, questions later.
However, there are some activities that might serve as a red flag for a possible suspension from Etsy.
Normally, Etsy is not in the habit of giving heads up before suspending an account. But? sometimes you might get an advanced warning in form of an email from the "Etsy Integrity Department".
They would inquire about your production process, your shipping method, or other things that have to do with your business process. You should begin to smell the smoke. This is a major red flag for a potential suspension.
One other way you can know if a suspension is looming is when a buyer files a chargeback request against you.
Yikes! You don't want that. This is because chargeback requests often raise eyebrows over at Etsy.
Once such a request is raised against you, Etsy would send a request for the transaction details. You would be required to respond to their request within 5 days after which you would be up for a possible suspension. Bye-bye, Etsy shop!
You should also pay close attention to your customer reviews as well as your shop ratings. They are like the major pointers that you are offering quality products as an Etsy shop owner.
You are on thin ice if you are not able to maintain more than 3-star rating on your shop after a while of operation. If you also have a lot of negative reviews from time to time, you might just be in for a suspension.
---
Major reasons why accounts get suspended
There are quite a number of them, to be frank. But from my experience, I have found some of the major reasons and I have narrowed them down to just 3 things – selling the wrong thing, providing the wrong services, and putting up the wrong act. I'd explain.
1. SELLING THE WRONG THING
There are many things that can cause your account to be suspended. Selling something that doesn't align with the Etsy policy is one of the major one. For instance, Etsy doesn't support that sale of drugs, alcohol, tobacco, or any of such substances, or derivatives. Selling any one of these products is like an open cry for suspension.
In addition, products that have to do with human or animal remains are highly prohibited on Etsy. Also, you cannot sell any product that has dangerous chemicals or hazardous substances. Weapons are also a no-no on Etsy.
Any product that features weapons, or print on demand product that carries a message that communicates hatred, racism, hate, or violence is largely frowned at.
Finally, products with pornographic or adult-themed content are not be sold on Etsy.
If you have any of these products on your listing, take them down, before Etsy takes you down!
2. PROVIDING THE WRONG SERVICES
Unlike every other eCommerce site, Etsy is known for its large sales of handmade and tangible products.
Typically, the kinds of products supported by Etsy are the ones that can be created by a manufacturer, sold to a customer, and ship to them for a given price.
This means that anything that you would get money without actually giving a physical thing in return to the customer is not allowed to be sold on Etsy. The customer's willingness to pay for such good or service is totally irrelevant to this rule.
Also, Etsy doesn't allow the modification of products for the purpose of resale. For instance, you fix a broken mug and sold it back to the owner. This is considered as a service and it is highly prohibited on Etsy.
Also, Etsy doesn't support rentals and all related activities.
3. PUTTING UP THE WRONG ACT
Etsy takes the words of customers quite seriously. And rightly so. When a shop owner puts up some inappropriate behavior towards a customer, a suspension can be issued, depending on the severity of the action.
Where customers also lay incessant complaint about getting inappropriate or illegal products from a seller, then suspension is near. Also, if many of your customers lay complaint about your product being a rip-off, or remotely similar to the description in your listing, then you might be up for a suspension.
---
Avoiding a suspension: Your best shot at safety
To be on a safe side, stick to using only one computer or mobile device to access your account. I use my iPhone with 4G network to manage my account. It's not difficult because most of my work can be done on PODTurbo and Vela.
Also, pay close attention to how you treat your customers. Ensure that you answer your customers' messages within 24 hours. Etsy loves the sellers who can respond to their customers quickly.
Avoid late shipment of products. Shipping products on time can help you get more positive reviews from the customers.
Do what your customer wants at all times. If they want a refund, then refund them. If they don't like the product, send the replacement or issue a refund. Whatever you do, ensure that you avoid the negative reviews.
Yeah, before I forget, do not sell trademark or copyright items! Stick to these and you must be on a safe side.
---
Final thoughts
To really be on a safe side, try to read and digest the Etsy terms of use. You would things that can help you stay on track.
However, I would advice that you do not put all your eggs in one basket.
Etsy is a great platform, but the thought of losing an account that you have built for several years in just on mail is quite disturbing.
So, diversify your presence platform. Open your shop on other marketplaces like Amazon, eBay, Storenvy, Bonanza or on the platforms like Shopify or Gearbubble Pro.
It might be difficult to build and control the traffic but it's worth the time in the long run. You can divert your customers to your site incase you get suspended from all platforms.
I know, I know. It's not likely to happen. But, who knows?
—Bank K.