Hey, I'm Bank K., the founder of Tiny Marketing Lab (TML).
It all started here, in this tiny room in my home.
This is a photo of me working in my bedroom. My brother took the pic. I can't remember exactly what I was doing at the time. Maybe I was just pretending to work so we could get this cool photo.
Anyhoo…
I've been working as an internet marketer since 2008, when I was in university. I accidentally discovered internet marketing after I wrote my first blog about Robocode (the coding game).
Originally, I blogged for fun and just wanted to log my coding stuff. Then a friend saw my blog and told me to use Google AdSense.
At the time, I had no idea what AdSense was. My friend told me that I could make some money from it. He did it himself, through some forums. I thought it was a good idea. I could use the cash to buy snacks.
A few days after I placed an ad in my blog, I got some clicks and saw a little money appear in my account.
I thought: "WOW! That's amazing! I can make money while I'm sleeping!"
I also knew that I would make some bucks if the clicks came from different computers. (It was one of many Google AdSense rules.)
studied Computer Science, and there was a computer lab in my faculty building. There were so many computers!
What did I do next?
Can you guess?
…
..
.
I headed to the lab, opened up my little blog on those computers…
and clicked the ads on my blog!
"Click!" "Click!" "Click!" "Click!"
…
A few more bucks landed in my account. It wasn't much, because Robocode wasn't exactly a high-paying keyword.
Anyway, that's the Black Hat Master was born! 😈😈😈
Just kidding.
That was not a smart move, actually. Luckily, my account wasn't suspended. I don't advise you to try this.
There are many ways to generate good money online, the proper (legal) way.
Anyway, that experience made me realize that it's possible to make money from the internet.
So I started learning about internet marketing.
That was the beginning of my journey.
Since then, I've tried many different internet marketing techniques, including Google AdSense, Affiliate Marketing, Mobile Apps, eCommerce, etc.
I was also a member of some IM communities. When someone showed their follow-alongs or case studies, if it looked interesting, I'd try it myself.
"Creating multiple mini-sites and placing ads on them is good!" – I jumped in.
"The mobile traffic from India was good!" – I tried it.
"I made good money from mobile apps!" – I did that, too.
"Facebook Ads and Teespring work great!" – I launched some ad campaigns.
Anyway, my path to success wasn't a straight line.
I made some good money with mini-sites and Google AdSense, but then Google updated its search algorithm. Suddenly, my sites became junk.
I promoted some good affiliate offers, and they worked for a few months – but then the owners removed the offers from the market.
My Apple Developer account was suspended after I made $10,000 a month steadily for more than a year.
Teespring removed my winning t-shirt campaigns.
And so on.
There were many ups and downs.
That's the nature of IM if you only use short-term methods.
Paid traffic, free traffic, affiliate marketing, mobile apps, Black Hat or White Hat stuff, etc. … I've done it all.
And I've learned a lot about IM.
At first, the reason I liked internet marketing was that it allowed me to work anywhere, at any time I wanted.
We all want this, right? FREEDOM!
No 9-to-5 job. No boss. No need to wake up early and go to work.
But after trying so many things over the past few years, I've realized that I don't like internet marketing just because I can work anywhere at any time.
I like it because so many internet marketing tasks can be automated.
For example, when I created mini sites and used Google AdSense, I had software that helped me do it automatically.
I just spent a few hours doing market research to find high-paying niches, then let the software do the rest. Then I could earn some money through the ads.
But that model doesn't work anymore. (Some people might still make it work, but not me.)
Another example is when I promoted affiliate offers. I used paid traffic, like PPC or PPV.
After I finished setting up my campaigns, the traffic was sent and got me leads automatically. I just needed to spend few minutes a day to optimize it.
When I created mobile games and set up in-app purchases, all items in the game sold automatically.
Okay, one more…
This is the latest IM model I really like:
Selling Print on Demand.
I sell Print on Demand (POD) products such as coffee mugs, shot glasses, and travel mugs on Amazon. My role is to plan and select niche markets.
My team creates the mug designs and uploads the products to Amazon for me.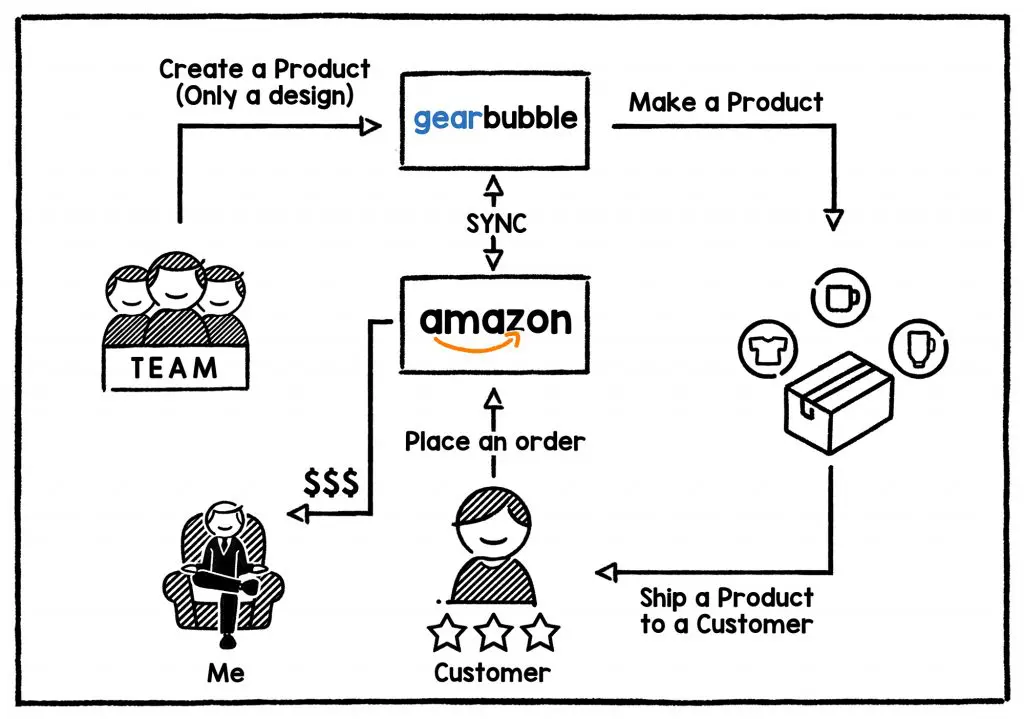 When there is an order, GearBubble receives it, makes the product, and ships it to the customer automatically.
I don't need to do anything. The whole process is automated.
Again, the reason I like internet marketing is NOT because it enables me to work at any time or anywhere.
It allows me to WORK LESS.
That's the beauty of internet marketing.
We live in a technological world.
If you decide to be an internet marketer, I recommend that you find a business model that lets technology help you work less.
From now on, if I have to do something new, I will find a way to add people or technology to the system and let them work for me.
That's the short "about me" version.
I'll write more later. 🙂
—Bank K.